MODEL LS15-C1, LOW-COST, NEW GENERATION, INTERNATIONAL TELEPHONE LINE SIMULATOR, CO SIMULATOR, OR MINI-PBX SIMULATOR, PROVIDES LOOP CURRENT/LOOP VOLTAGE, RING SIGNAL, CALL PROGRESS TONES, 20 DB SIGNAL INSERTION, AND PROGRAMMABLE TELEPHONE NUMBERS FOR ALL COUNTRIES IN THE WORLD.
E-mail: sales@microseveninc.com
Homepage: http://www.microseveninc.com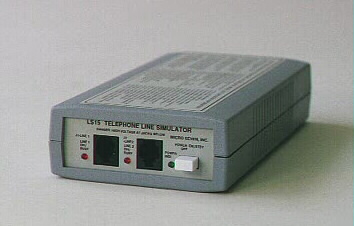 Introduction:
Micro Seven Model LS15-C1, Low Cost New Generation International Telephone Line Simulator, CO simulator, or MINI-PBX SIMULATOR, provides complete telephone line simulation including 20Hz sine-wave ring signal, dual frequency call progress tones, battery-feed, DTMF& rotary-pulse dialing, programmable telephone number and distinctive ring signals in a small case. Model LS15-C1 is powered by a standard equipped AC/DC adapter. An international power adapter option provides four different power plugs (US/Japan, BK, Australian, and Continental European) for 90-250V power range. An optional car battery adapter may be used to power model LS15-C1. The application of model LS15-C1 includes modem and telephone sets testing in engineering, manufacturing, and fields. The LS15C-1 contains dual frequency call progress tones, 20Hz sine wave ring signal, short primary or programmable secondary telephone number, stutter dial tone, distinctive ring signals, network response delay, disconnect signal, hot-line mode, PBX mode, and secondary dial-tone. The LS15C-1 also contains a line-impairment mode with extra insertion losses between lines. The programmable parameters include telephone numbers, network response delay, and disconnect signal period. All the programmable parameters in non-volatile memory are restored when the power switch is turned off. Other LS15 models include caller-ID or rechargeable battery. The model LS15-C is a low-cost version of model LS15, which is a battery-operated, and includes caller-ID simulation. Car Battery Adapter and international power adapter option, instead of 117V, AC/DC adapter is available as options.
SPECIFICATIONS
Dialing Telephone Numbers:
1. Primary telephone number as a factory default.
2. Secondary telephone number (programmable) A telephone number can not start with 0.
Dialing Method:
DTMF signal power: -13dBm to +5dBm per a frequency with no more than 4dB difference between frequencies.
DTMF dialing detection time: 45 ms
Pulse dialing: Break period: 45 to 75 ms (60 ms nominal)
Make period: 30 to 60 ms (40 ms nominal)
Simulated PBX Mode: By dialing "9", dial tone returns when the Simulated PBX Mode was selected.
Line Characteristics: Input impedance at 1 k Hz: 600 ohms +/- 5%
Signal Bandwidth: 150 HZ to 3.5 k HZ
Line Impairment Mode: Line impairment circuit with additional 20dB of insertion loss
Battery-feed voltage (loop voltage): -20 volts
Ring Signal: 20 +/- 2% Hz sine wave. Normally 2 sec on 4 sec off with exception of distinctive ringing features programmed.
Amplitude: 67V RMS into open circuit. It is 66 V RMS into RN=0.1, 56 V RMS into RN=0.5, 48V RMS into RN=1, and 40V RMS into RN=1.7.
Distinctive ring signal features: The following distinctive ringing pattern is enabled instead of standard 2 sec on/ 4 sec off ringing pattern:
(a). 2 sec on/ 4 sec off (default condition)
(b). 0.8 sec on, 0.4 sec off, 0.8 sec on, 4 sec off
(c). 0.4 sec on, 0.2 sec off, 0.4 sec on, 0.2 sec off, 0.8 sec on, 4 sec off
(d). 0.2 sec off, 1 sec on, 0.2 sec off, 0.3 sec on, 4 sec off
Off-hook impedance requirement: 400 ohms maximum DC, 600 ohms nominal AC
Call Progress Tones: Standard dual-frequency call progress tones: nominal -16 dBm.
Dial Tone: 350 Hz + 440 Hz, continuous unless programmed for stutter dial tone
Ring-back Tone: 440 Hz + 480 Hz, 2 sec ON/4 sec OFF.
Busy Tone: 480 Hz + 620 Hz, 0.5 sec ON/0.5 sec OFF.
Accuracy in frequency component: +/- 1%.
Secondary Call Progress Tones: (480 Hz +/- 1%)
Secondary call progress tones may be selected instead of generating dual frequency call progress tones, single-frequency tone of 480 Hz is produced with signal power of -18.5 dBm.
Stutter dial-tone: enable/disable
Line Input Jacks: USOC-RJ11-C, standard modular phone jacks
Power Switch
Hot Line Mode: In hot Line mode lifting a handset at line 1 or line 2 calls the other line without dialing a number. Note that the hot line mode is not restored in power up.
Network response delay: Time delay between the end of dialing and ring-signal application is programmable.
Forced called-party disconnect: When two lines are connected and one line hangs up, disconnect signal is generated to both lines.
Programmable disconnect signal: The disconnect signal, which is interruption of loop current at the end of call when one line hangs up is programmable.
AC/DC Adapter: 117VAC +/- 5%, or 230VAC +/- 5%(for 230V unit)
AC/DC Adapter or Car Battery Adapter input (also as a battery charger): 12VDC unregulated, 800mA maximum
Line Status Display: red LED for each line to indicate off-hook status (continuous on) or ringing status (blinking)
Calibration: not required
Power On Indicator: green LED display on front panel
Dimensions: 19 cm (4") W x 4.5 cm (1.75") H x 10 cm (7.5") L
Weight: 500g (1.1 lbs.)
Environmental: Operating temperature: 0 to 35 degree C, Humidity: 85% RH at 35 degree C
Warranty/Service: 6 months limited warranty. No warranty if any factory seal is broken. Service is performed at the factory, usually within 5 working days.
Options and Accessories:
Car Battery Adapter
International power adapter option (117V input unit is a standard.)
Micro Seven, Inc., Hillsboro, OR, U.S.A.
E-mail: sales@microseveninc.com
Homepage: http://www.microseveninc.com