Model AR101, Alarm Receiver receives digital alarm signals from Ademco-contact-ID type alarm/fire panels/dialer and displays alarm conditions with LED displays (MEDICAL, FIRE, PANIC, BURGLAR, OTHER) and siren-like sound output. The economical and wall-mount unit is intended for security control in adult-care facilities, hotels, apartments, businesses, and schools without using alarm monitoring service
<![if !vml]>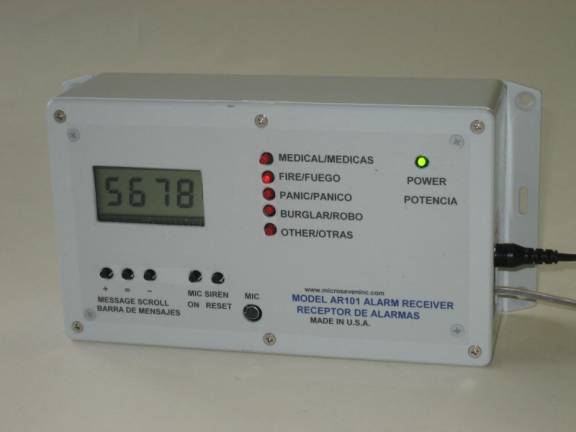 <![endif]>
<![if !supportEmptyParas]> <![endif]>
-Build your own security system with commercially available alarm panels
-Monitor your own alarm and save money without using alarm monitoring service
-Compatible with Ademco Contact-ID format
-Wall-mount
-Security control for adult-care facilities, hotels, apartments, businesses, and schools
-LED outputs for MEDICAL, FIRE, PANIC, BURGLAR and OTHER
-Display 4-digit room-number or address or alarm system account number
-Scroll last ten alarm inputs
-Siren sound output and reset button
-Power indicator
-Regular telephone line interface
-AC /DC power adapter 
-Wall-mount
-2-way audio and microphone operation for listen-in 
<![if !supportEmptyParas]> <![endif]>
Example how AR101 works in apartment application
Alarm panels need to be installed in an apartment for monitoring alarm conditions including medical, fire, panic, burglar other security conditions via PBX or telephone line. AR101 is also installed in a manager room via telephone line. When Nancy in Room 200 pushes a panic button on an alarm panel, the alarm panel dials a pre-programmed manager's telephone number for telephone line that is connected to AR101. The "PANIC" information with the apartment room number is transmitted from the apartment alarm panel to AR101. The "PANIC" LED display on AR101 turns on, the room "200" is displayed and siren sounds inside AR101. The manager or attendant in the manager's room pushes SIREN RESET button on AR101, hears voice from Room 200 saying "Help-my husband is having heart attack-help". The manager or attendant calls 911 for calling paramedic and rushes to Room 200 to see John or Nancy. Without 2-way audio option and compatible alarm panels, you do not hear the voice from Nancy in Room 200 nor you can not talk with Nancy. 
<![if !supportEmptyParas]> <![endif]>
Specifications
Digital alarm message standard: Ademco contact-ID
Reference: Digital Communication Standard-SIA DC-05-1999.09, Ademco Contact ID Protocol for Alarm System Communications
<![if !supportEmptyParas]> <![endif]>
Alarm LED output:
Alarm message: must be "new" message. The "restored" messages are ignored by AR101.
LED outputs: "MEDICAL" alarm LED for event codes among 100 Medical, 101 Personal Emergency and 102 Fail to report in.
"FIRE" alarm LED for event codes among 110 Fire, 111 Smoke, 112 Combustion, 113 Water flow, 114 Heat, 115 Pull station, 116 Duct, 117 Flame, and 118 Near Alarm.
"PANIC" alarm LED for event codes among 120 Panic, 121 Duress, 122 Silent, 123 Audible, 124 Duress, and 125 Duress.
"Burglar" alarm LED for event codes between 130 and 139.
"OTHER" alarm LED for all other event codes.
Power indicator: green LED
<![if !vml]>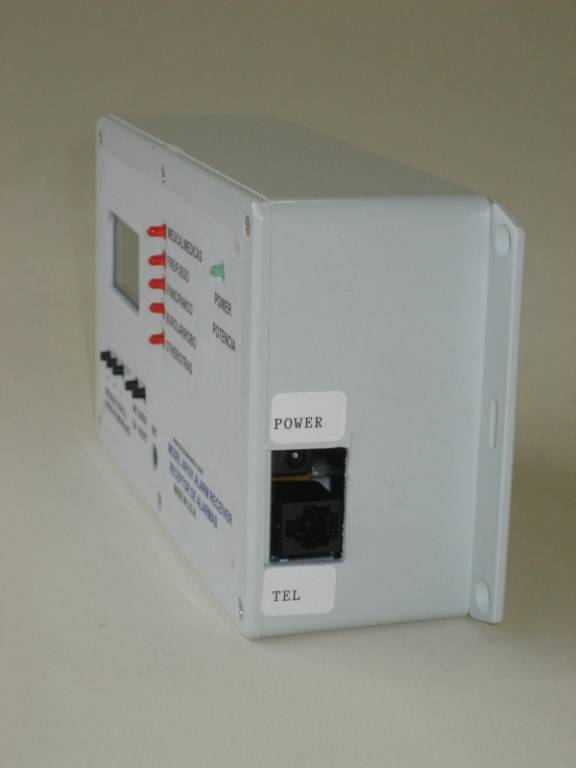 <![endif]>
Power and telephone connector are located on right side of AR101 as shown in the above picture.
<![if !supportEmptyParas]> <![endif]>
Siren output: from internal audio speaker, 600Hz tone interrupted by 0.5 sec on/0.5 sec off
LED display: Displays four digit alarm account number, which is the same account number in the alarm message.
Front-panel Controls:
Message scroll: Pushing  "+" button for displaying previous alarm conditions. The four-digit account number and each alarm LED output are displayed. There are maximum last ten alarm conditions. Pushing "-" button for is displaying showing the forwarded alarm conditions. Pushing "="  button is for displaying the current alarm condition.
MIC: Pushing " MIC" button to talk through microphone that is located on front panel . 2-way audio is enabled when AR101 receives the listen-in event with 606 code.
Siren reset: to stop the siren output
Power input: AC/DC power adapter is provided with 2.1mm jack
 +12 DC@200ma
Power On Indicator: green LED display on front panel
Option: 2-way audio and microphone option
Dimensions: 11.5 cm (4.5") H x 22 cm (8.5") W x 7 cm (2.5") Depth
Weight: 500g (1 LBS.)
Environmental: Operating temperature: 0 to 35 degree C, Humidity: 85% RH at 35 degree C
Warranty/Service: 6 months limited warranty.  Service is performed at the factory, usually within 5 working days.
Micro Seven, Inc., 1095-K N.E. 25th Hillsboro, OR, U.S.A. Phone: 503-693-6982, Fax: 503-693-9742
sales@microseveninc.com
http://www.microseveninc.com/