Micro Seven, Inc.
email: sales@microseveninc.com for more questions or buying this unit.
PM10 control software detail information as of 9-16-07.
Sample screen display of PM10 control software is shown below:
The PA voice announcement is enabled by a key "voice announcement"-"cont. playing enabled" key.

Sound alarm is a 2 second-long "Excessive sound alarm".

PM10 identity is for voice prompt instead of prompt tone.

High temp alarm is for high temperature alarm voice prompt.

Low temp alarm is for low temperature alarm voice prompt.

The sound duration indicates position in voice generation. (only useful for 14 seconds voice message)

0.5 sec voice segment is numerical, polarity, and over-range indicator, i.e. 01234,-, and >.

1 sec voice segment is for US English way of announcing tens and twenty, i.e. eleven, twelve,---, twenty, thirty, etc.

Voice file upload/download provides storage of programmed voice segment.

PA sound may be continually generated with programmed interval (cont. playing rate)

Alarm panel mode programming contains master arm (alarm panel enabled), excessive sound alarm (sound alarm on) with sound trigger level control, high temperature alarm on with high temp. threshold, low temperature alarm on with low temp. threshold, and two telephone numbers for alarm panel dialer.

PIN programming

Communication port programming for RS232 interface (note: USB option is available.)

Temperature measurement controls for selection of Celsius or Fahrenheit and temperature display window. US English type announcement may be selected.
<![if !supportEmptyParas]> <![endif]>
<![if !supportEmptyParas]> <![endif]>
<![if !vml]>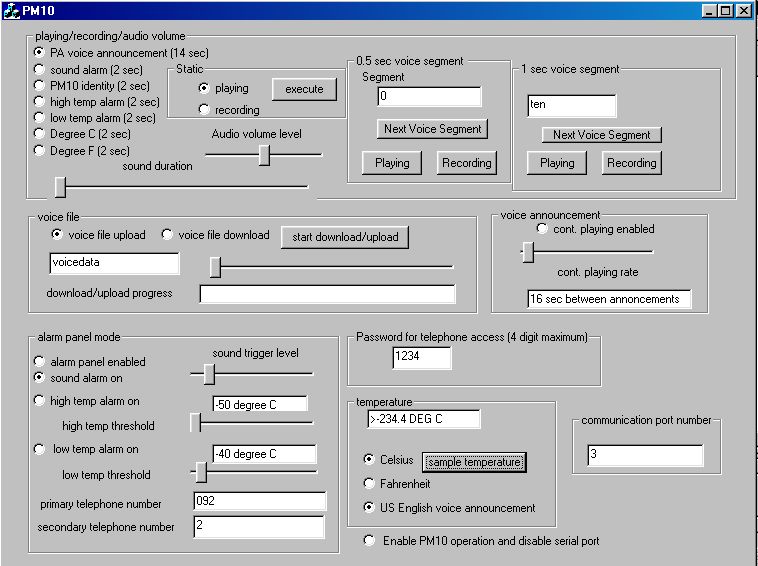 <![endif]>